Khargo Cushion is now in store for a limited time free offer. It's kinda cute - perfect for soaking up the late summer sun and at only 2 prims it's not going to squeeze your prim limit too much. Come along the store asap to grab it :)
Also, to celebrate the new store we have some special offers on new items on Xstreet.

The Boreas Bench Set has been

reduced to only L$50

from L$240 for 7 days only - this offer runs out on 26/08/09.




The Athena Bookcase Set has been reduced from L$320

to only L$100

. This offer also runs out on 26/08/09.




(It occurs to me my dating may confuse some Americans. I'm British - American dates confuse me too :) )


The Zeus Living Room Set has been reduced from L$760

to only L$200

.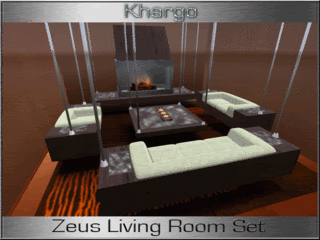 The (as yet unblogged)
has been reduced from L$480

to only L$200

.



So drop in to Khargo soon, pick up the cushion, check out the furniture then head on over to Xstreet to buy the amazing offers :)